So you're planning a Trade Show…
Here are some great suggestions to get you started.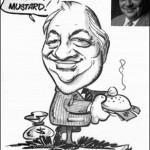 Everyone loves caricature drawings, so bring your party to life with custom caricatures of your guests. Each drawing takes just minutes but will add hours of enjoyment to your event. Our caricature artists are the best in the business and will keep your guests talking. Just click here to choose an artist and give us a call at (877) 254-1268 or fill out the contact form and we'll do the rest.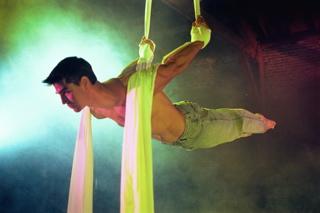 Our extremely talented acrobats and gymnasts will thrill your guests with feats of balance, strength, and flexibility in an artistic aerial or ground routine. Choose from cirque or theatrical style shows, local or international performers, to make your product or brand a memorable name.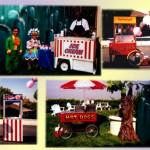 Keep hungry guests satisfied with a Party Cart! Our vintage style carnival concession carts can provide that touch of whimsy and nostalgia to any event. Popcorn, cotton candy, snow cones, soft pretzels, churros, lemonade, ice cream, pizza and barbecue are just a phone call away.

Looking for something unusual and hip? Try our World's Fastest Painter. Accompanied by dazzling lights and music, our artist creates one-of-a-kind paintings in a matter of minutes. This is performance art at its finest.

Have a limited amount of time to announce a lengthy sales pitch or promotion? Call us to hire a speed talker who will catch and hold your attendees' attention with their lightning-fast delivery!

Personalized Chocolate Lollipops
Here is another edible creation available to give out to your guests! Digital photos are taken of your guests and then printed with edible ink onto chocolate lollipops! What a delicious way to remember your special day. Great for Bar/Bat Mitzvahs, birthdays and corporate events.

Need some hostesses to pass out cigars, cigarettes, candy, trinkets and/or special mementos? Look no further, we have the right girls with the right costumes for your event.

Bring in a professional mime to add character to your next event. They can come in traditional French costume with beret, striped shirt & white painted face, court jester attire, or top hat and tails. An all-around crowd pleaser, our mimes can escort your guests into the venue and/or mimic them in a fun way.

Our talented jugglers can perform with balls, clubs, fruit, bowling balls, blocks, fire and even chainsaws! Liven up the crowd with strolling jugglers or book a stage show.

Human Mannequins/Living Statues!
Looking for something unique to surprise your guests? Try one of our live mannequins! That's right, you can have a live person at your event posing motionless like a statue. Our trained professionals come painted white, metallic, blue, etc. with all of the drapery and costume to look like the real thing.

A popular and economical choice that appeals to guys and girls of all ages. Airbrush tattoos are quick, colorful, and last 2-3 days. Many different designs to choose from. Great for birthday parties, Bar/Bat Mitzvahs, and Corporate events. For your corporate branding needs, you can provide us with your company logo and we'll create a custom-designed tattoo that can be applied onto your guests.

We've updated our old-fashioned photobooth with some modern touches. Digital prints with various borders, backgrounds, and even hairstyles are now available at the touch of a button. Different booths are available depending on your needs. Our most requested prints out two strips with four images on each strip: add some to your scrapbook and let your guests take the rest home.

For classic event entertainment, you can't go wrong with magic. Give your meeting some pizzazz with a strolling magician or a master illusionist! Our top-rated magicians will dazzle your guests with flawless prestidigitation. Just click here to choose a magician, then give us a call at (877) 254-1268 or fill out the contact form and we'll do the rest.

Bring the fun of Las Vegas & the Monte Carlo to your next event. Our expert dealers will show the novices how the games are played and provide sage advice and helpful tips for the more experienced. Blackjack, roulette, craps, poker, Wheel of Fortune, Let it Ride, and more are all available for your next event. Roll the dice by throwing a casino party and hit the jackpot! Just give us a call at (877) 254-1268 or fill out the contact form and we'll do the rest.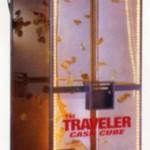 Perfect for Grand Openings, Business Promotions, Radio Stations, Charities, Private Parties, Corporate Picnics, Malls, Casino Nights, Bingo Halls, School and Church Groups and Fund Raising Events. Guests try to catch fake and/or real money inside a plexiglass cube while wind is blowing underneath them. Challenging to play and fun to watch!

Green Screen Digital Photography
With green screen digital photograpy, amazing effects can be created! You can be a cover model on your favorite magazine, have your head superimposed on a fantasy body or pose in front of the Eiffel Tower without ever having to travel to France! Photos can be printed on 5×7 paper or on magnets, mousepads, t-shirts, keychains, etc.

Make your own music video! We supply the props, costumes, video, sound & lighting, you supply the moves and the grooves. Guests can lip synch to their favorite songs and come away with a DVD of their performance. For booking, just give us a call at (877) 254-1268 or fill out the contact form and we will do the rest.

An interesting twist on the portrait concept! In a matter of minutes, our skillful artist magically sketches YOUR image onto a mini-etcher. Guests get to take home a digital print, the mini-etcher itself, or both.

Great for private parties, bar/bat mitzvahs, birthdays, corporate events, etc. Watch in amazement as our talented sculptor magically transforms a lump of candy into an edible work of art! Fantasy creatures, roses, horses, and more come to life under his artistic eye.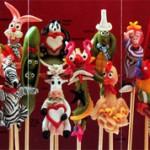 Try a dough doll artist! Great for a Bar/Bat Mitzvah, holiday party, birthday, corporate event, private party, school, or church function. Our clever artists create charming personalized figurines out of colorful dough. An ancient Chinese art form that has found its way into America. Add a touch of whimsy to your next event!
And don't forget our:
| | | |
| --- | --- | --- |
| | Wheel of Fortune | Laser Light Show |