Make your next holiday event a Snow Party!
When you want to take the Winter Wonderland theme to the ultimate level, The Entertainment Contractor can provide real snow and ice for your event! Snowslides, snowballs, snowy landscapes… you name it! We are experts at snow-making for parties in the Los Angeles area.
Your guests will be thrilled and amazed at the way they are transported to the beautiful White Christmas they've always dreamed of!
We can create snow for your holiday party, corporate event, trade show, mall events, movie shoots, music video shoots or any other kind of event. Think of it, sledding and throwing snowballs in Sunny California with real snow making for parties!
Watch how we turned this yard into a sled hill with real snow!
We are a turnkey snow solution. We can make sled hills, holiday decor, snowball fights, or just about anything else you can think of! One of our specialties is building sledding hills. All we need is a little space, a side yard, backyard or even driveway will work. We will bring the straw bales and our giant snow-making trucks. Once all of the bales are in place, our snow men will blow in the snow to create a great snowy hill ready for your guests to have a great time snow sledding.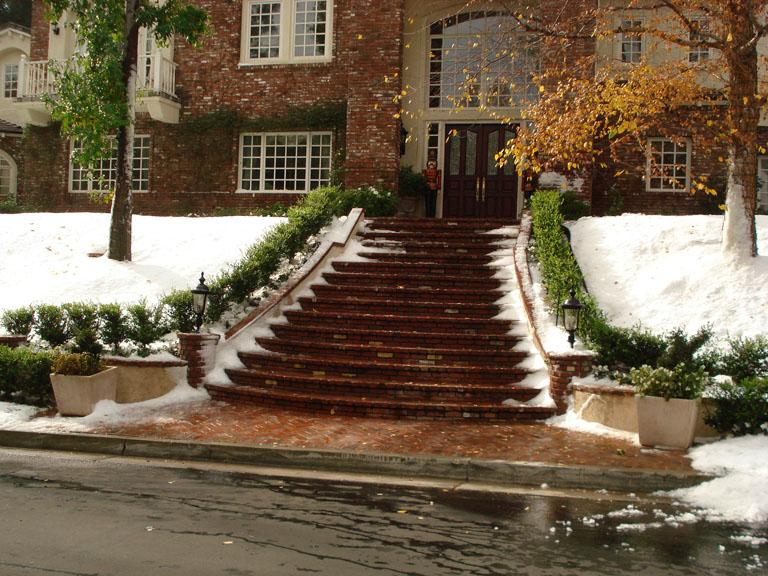 Wow your guests with themed props!
Now that we have the hard part taken care of, liven up your Winter Wonderland with our holiday props. We have a great assortment including: sleighs, reindeer (prop or live), snowmen, large candy canes, Santa thrones and houses, giant snowflakes, and more. Check out photos and find inspiration in our Party Planning/Decor section.
Entertainment Ideas
And let's not forget your Holiday Entertainment! We have many ideas including carolers, Santas (real bearded or fake bearded), brass bands and much more. Visit the Entertainment Section of our site to choose the best entertainment for your event.
Call us now to make it snow for your next special event: (877) 254-1268