MAGICIANS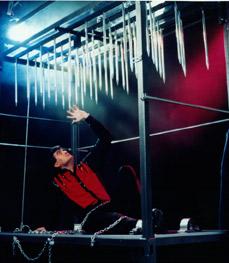 Are you having a childen's party and need a magician to pull a rabbit out of a hat or levitate the birthday child? Maybe you'd like a magician to stroll around your bar/bat mitzvah, wedding, or corporate function. How about a full-blown all-out stage show complete with illusions… or perhaps your corporation needs to make your product disappear and it happens to be a Boeing 747? No problem! We have it all — whatever your need, whatever your budget. Our magicians are highly skilled professionals, many of them members of The Magic Castle in Hollywood, CA. Just give us a call with your needs and we'll place the right magician at your event.
Videos of live magic acts now available!
Download slow? Right-click and "Save As…"
Our top performers:

Bill P.

All-American Superparty Hero! Comedy magician of the year 2007 and 2008.


Anton R.

Anton's unique blend of con games, magic, and pool ball wizardry is guaranteed to draw a crowd.


Mark P.

This talented variety performer has worked with David Copperfield and entertains for businesses and celebrities.


Alan R.

Expert sleight-of-hand magic and intuitive humor make for a can't-miss show!


Dean D.

Famous for innovation, his flawless tricks have baffled some of the greatest minds in close-up magic.


Joel W.

This innovative and high-energy magician performs hundreds of shows per year! Classic with a contemporary touch.


Tom O.

From Vegas to the Magic Castle to TV appearances, a veteran of comedy magic.


Brandon S.

The "Ambassador of Fun" — versatile for children's or adult shows, and bilingual too!


Franz H.

Pull out all the stops and book an internationally-acclaimed illusionist!


Howard J.

This Magic Castle regular dazzles with quick wit and warm personality.


Dave

Jaw-dropping magic, gut-busting comedy — and balloon sculptures!


Johnny P.

Over 20 years of world-class, award-winning magic on this legendary performer's resume.


Chuck J.

Fast-moving, eye-dazzling entertainment with Chuck's impressive illusions!


Alan S.

Also a skilled hypnotist, Alan performs comedy magic like you've never seen.


Tricia B.

With classic magic or costumed sorcery, this performer loves to make your guests smile.
But wait, there's more!