So you're planning an Anniversary Party…
Here are some great suggestions to get you started.

Get the party started and keep it going strong with a Disc Jockey! From low-key to high energy, our DJs will provide just the right mix of music for your event. If you are planning a wedding, Bar/Bat Mitzvah or corporate event, our DJs can also assist with setting up the schedule and planning the music for each portion of your event. Just give us a call at (877) 254-1268 or fill out the contact form and we'll do the rest.
---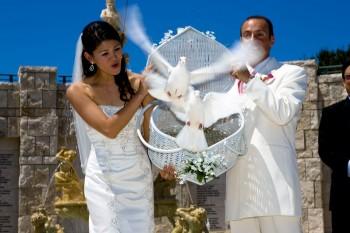 A breathtakingly beautiful, symbolic, and environmentally-friendly way to commemorate your special event: release butterflies or white doves at the culmination of the ceremony.
---

We've updated our old-fashioned photobooth with some modern touches. Digital prints with various borders, backgrounds, and even hairstyles are now available at the touch of a button. Different booths are available depending on your needs. Our most requested prints out two strips with four images on each strip: add some to your scrapbook and let your guests take the rest home.

Bring the fun of Las Vegas & the Monte Carlo to your next event. Our expert dealers will show the novices how the games are played and provide sage advice and helpful tips for the more experienced. Blackjack, roulette, craps, poker, Wheel of Fortune, Let it Ride, and more are all available for your next event. Roll the dice by throwing a casino party and hit the jackpot! Just give us a call at (877) 254-1268 or fill out the contact form and we'll do the rest.

Our digital photo services capture those special moments while you sit back and enjoy. Green screen digital photography is available as well as normal candid or formal portraits. A great memento for Bar/Bat Mitzvahs, Birthdays, Weddings, Private Parties and Corporate Events.

For classic event entertainment, you can't go wrong with magic. Give your meeting some pizzazz with a strolling magician or a master illusionist! Our top-rated magicians will dazzle your guests with flawless prestidigitation. Just click here to choose a magician, then give us a call at (877) 254-1268 or fill out the contact form and we'll do the rest.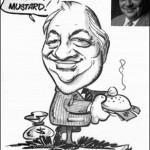 Everyone loves caricature drawings, so bring your party to life with custom caricatures of your guests. Each drawing takes just minutes but will add hours of enjoyment to your event. Our caricature artists are the best in the business and will keep your guests talking. Just click here to choose an artist and give us a call at (877) 254-1268 or fill out the contact form and we'll do the rest.

Try one of our live bands to get you and your guests moving with the groove! All styles of music, from soft easy listening pop, jazz, to pulsing salsa and hip-swinging jive and rock 'n roll, can be made available for your next event. Just give us a call at (877) 254-1268 or fill out the contact form and we'll do the rest.

Celebrity look-alikes are a fun way to capture the essence of Hollywood at your next event. Great for photo ops and/or a show. Our most requested are Marilyn Monroe, Charlie Chaplin, Elvis Presley, Clark Gable, Humphrey Bogart, Laurel & Hardy and Mae West, but we have modern celebrities as well such as Tom Cruise, Angelina Jolie & Madonna.

Get your whole group laughing with a hilarious and good-natured roast hosted by one of our talented and funny celebrity look-alikes — how about Joan Rivers, or your favorite comedian?

With many styles of catering available, we can supply you with quality catering and food as part of an entertainment package. From the casual to the elegant, we can provide you with international cuisine including Italian, Chinese, Japanese, Kosher, foods from the Middle East, Tropical Isle or Picnic Bar-B-Que. Whatever the fare, you'll love it!

Bring in a professional mime to add character to your next event. They can come in traditional French costume with beret, striped shirt & white painted face, court jester attire, or top hat and tails. An all-around crowd pleaser, our mimes can escort your guests into the venue and/or mimic them in a fun way.

Great for private parties, bar/bat mitzvahs, birthdays, corporate events, etc. Watch in amazement as our talented sculptor magically transforms a lump of candy into an edible work of art! Fantasy creatures, roses, horses, and more come to life under his artistic eye.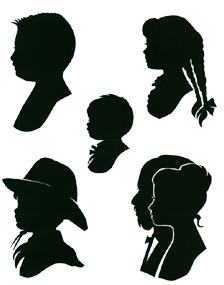 Old-fashioned, hand-cut silhouettes done on the spot by a professional scissor artist. Your profile is cut out, then pasted onto a 5″ X 7″ backing all with in two minutes or less! A true family heirloom.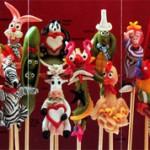 Try a dough doll artist! Great for a Bar/Bat Mitzvah, holiday party, birthday, corporate event, private party, school, or church function. Our clever artists create charming personalized figurines out of colorful dough. An ancient Chinese art form that has found its way into America. Add a touch of whimsy to your next event!

Want to know what your future holds? Try one of our party psychics! All forms of readings can be done: palmistry, tarot cards, face reading, runes, tea leaves, etc. to predict what is in store for you and your guests. Great for all types of events including bar/bat mitzvahs, holiday parties, birthdays & corporate events.

Try an airbrush T-shirt artist! Always functional and never goes out of style. Kids love to wear hip, graffiti, street-inspired looks and airbrushed shirts, boxers and tank tops fit the bill. Your guest picks a design and the artist personalizes it with their name(s).

Green Screen Digital Photography
With green screen digital photograpy, amazing effects can be created! You can be a cover model on your favorite magazine, have your head superimposed on a fantasy body or pose in front of the Eiffel Tower without ever having to travel to France! Photos can be printed on 5×7 paper or on magnets, mousepads, t-shirts, keychains, etc.

Create lasting memories with these durable and fashionable souvenirs: military-style dog tags personalized with your guest's name or custom message, then hung on a 22″ silvertone ball chain. Engraving is done on the spot for an instant keepsake.