VIRTUAL REALITY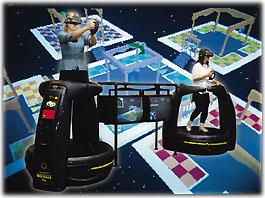 Virtual Reality is the new technology that allows people to experience environments simulated on computers. But unlike conventional computer programs that display information on a fixed video monitor, Virtual Reality programs display computer images in a head-mounted display. This enables the user to see the environment simply by turning his head as he would in the real world.
Add to this realistic sounds and a multi-function handgrip to control movement, and the user can explore the computer-generated world with a high sense of realism. The simulators create high-tech, fast-action, non-encumbered play.
Virtual reality systems put the players in control and in the center of the action. Our Virtual Reality systems are a great entertainment value for trade shows and bar/bat mitzvahs!