INFLATABLE GAMES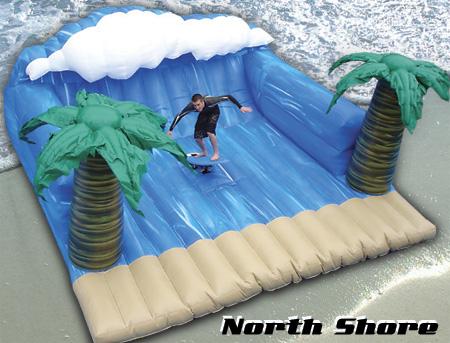 ACROFLIGHT: Starts with a 14′ diameter trampoline. You are harnessed around the waist and thighs and the bungee cords are attached to you and two 25′ high metal columns on opposite sides of the trampoline. As you start to jump on the trampoline, hydraulics in the steel poles begin to take you higher and higher until you are a human yo-yo doing flips 24′ in the clouds! It comes mounted on a trailer and requires 20'Lx12'Wx26′.
AIR HOCKEY: Two opponents compete to score goals by sliding a puck over a layer of air, creating a fast-paced game of table hockey. The table keeps score, and the first one to score seven goals wins! Requires a 8'Lx4'W area.
ALIEN POINTABLE WARS: This is the hottest new game for all ages! In a completely enclosed unit, you and two others will shoot paintballs at both stationary and movable targets. The booth measures 12 feet wide and 30 feet long. It also has a top so that no paint can escape. This is a must for all events!
ALPINE SKIER: Swish down the mountainside at world class speeds, but be careful of the moguls, tight turns and sheer cliffs that are right around the next corner. Your course is set out before you on a large monitor. You will stand on a movable base that simulates skiing. This event is a great crowd pleaser! Requires a 6'L x 6'W x 7'H area. Power 1- 110v/15 amp
AQUA JET: It's you against the waves and out-of-control racers. You control your direction by leaning right and left. Aqua Jet features a 50′ video screen with outrageous 3-D graphics. You are able to experience every wake and wave through a pneumatic feedback system. This is perfect for any water or sports-themed party. Requires 9'L x 4'W x 8'H. Power 110v/15amp.
BASKETBALL (ELECTRONIC DOUBLE SHOT): Two players, two hoops, and a rapidly ticking game clock make this an exciting test of your basketball skills under pressure. If a player scores enough points before time runs out they can go into overtime. An electronic scorekeeper in the backboard provides both sound effects and LED score. Requires a 9'L x 4'W x 8'H area.
BLITZ 99: A two- or four-player realistic football game in which you can choose you favorite pro teams to play against. Like the real thing! 4′ x 4′
BUNGEE RUN: It's a 35′ long inflatable with a divider down the middle to create two lanes. Running along the top of the divider is a velcro strip. Two contestants are harnessed in attached to bungee cords, and are given velcro batons. On the referee's signal they race to the finish line. But, surprise! The bungee wins every time as both opponents are pulled back to the starting line. The winner is the one who has placed their baton the farthest on the velcro divider. Requires a 30'L x 15'W area. Power: 110v/20amp circuit.
CASH CUBE/MONEY MACHINE: Imagine being surrounded by flying money and being able to grab as much as you can! That's what happens in the cash cube. It is great for contests, employee incentive awards, and grad night parties!
DAYTONA 500: Have you ever wondered what it would be like to drive a Formula 1 race car? Well, here's the chance of a lifetime. You will sit in the driver's seat and race against the clock in this race car simulator. Will you achieve the fastest speed… or will you crash and destroy your vehicle? Requires 6′ x 6′ x 7'H. Power: 110v/15amp circuit.
DOWN–SET–HIKE: A football cage is set up with four wooden players. Each player has a net to catch the passes thrown. You get six tries to score. The players are worth 25, 50, 75, and 100 points. Show your passing accuracy!
DUNK TANK: This is a must have for every carnival, picnic, or water-themed party! Everyone is going to get wet and have fun. The tank holds 500 gallons of water. Requires 8'L and 11'W, water source and good drainage.
Contact The Entertainment Contractor NOW
ELIMINATOR: Four contestants dive into a sea of balls, each searching for one of three differently colored balls mixed in with thousands of other balls. Just like the old game of musical chairs, someone will be eliminated. The game continues until there is only one player left. This is great for team competitions. Balls with company logos as well as other theme items can be hidden as well. Requires 14'L, 14'W, 10'H. Power:110v/20amp circuit.
FLICK-A-DERBY: Up to six players use pinball flickers to aim balls into a play field that contains four holes. Each hole has a point value, and each time a ball lands in it the player's horse advances. Flick-A-Derby is fast paced as players spur their horses to victory. Tickets awarded for first and second place winners.
GAME MASTER: We bring the games — you relax and have fun! Our fun and friendly Game Master brings everything you would need for traditional picnic races. He or she sets up a race area and takes you through all the old traditional picnic races. Winners are given small prizes, medals or trophies. (You supply or we supply) This can be geared to fit any space requirements.
GIANT 5 WHEEL TRIKES: Race your opponents on giant oversized trikes with 5 wheels. You can design your own course or add our inflatable course. Great for Grad Night, corporate events and team building. Designed to do "wheelies" safely! Power required: leg power!
GIANT JENGA: The biggest name in wood block games just got bigger! Show off your steady hands by pulling out and stacking blocks on top of the tower until gravity will no longer be defied.
GOLF CHIPPING CHALLENGE: Show off your short game. Accuracy and touch are the keys as you chip perfectly-weighted velcro-covered golf balls onto a free-standing vertical green. The person that gets closest to the pin wins. This game can be set up either indoors or out. This can be combined with our Radar Driving Range and Putting Challenge for the greatest golf event ever. Requires 10'L x 7'W x 8'H.
GOLF DRIVING RANGE (RADAR): Tee off and give it your all as you hit a real golf ball with a real driver. The driving range is completely enclosed with netting. Our state-of-the-art radar system computes your distance and electronically displays it. Great for all ages! 11'L x 11'W x 11'H area.
GYROSCOPE: You will literally be head over heels as you view the world from a different perspective. Originally developed for pilots in the Air Force, now you can have it at your party! Trailer mounted. Requires 12'L x 12'W x 12'H.
HIGH STRIKER: Test your strength with this carnival classic! Swing a sledgehammer down on the target hard enough to send the marker 15 feet up and ring the bell.
HOCKEY SLAP SHOT: Hockey without the ice! We set up a shooting "rink" to test your skill. At one end, a hockey net with a goalie facade; at the other end, you. The puck slides on a polished white linoleum floor that simulates ice. It's a great way to get the hockey fever without the chills! 10'W x 20'L x 10'H area.
HUMAN FOOSBALL: This is a life-size version of the popular table game. Players are fastened by waist harnesses to a sliding horizontal bar. They can move from side to side, but can't come in contact with each other or move from their rows. Teamwork is a must in this game. Two teams of five participate at the same time. Great for team building or round robin tournaments. 55'L x 30'W x 7'H. Power:1-110v/20amp circuit.
HUMAN SCRABBLE: This is a variation of the eliminator game. Four players dive into a sea of balls to find lettered balls. When the balls are found, they are passed to teammates on the outside who attempt to spell out pre-determined words, or formulate as many word as they can. 14'L x 14'W x 10'H. Power: 1-110v/20amp circuit.
Contact The Entertainment Contractor NOW
KEG TIRE OR CAN RACERS: The very latest in speed racing! Using hand controls for accelerating and braking, you can reach speeds of a thrilling 12 mph! We provide 2 racers, and can design either a straightaway or a skill-testing obstacle course to fit your venue. This is a wonderful way to test your racing prowess! Kegs last up to 3 hrs (longer if we have access to charging).
MINI ARCADE: Have all the excitement of a real arcade at your event! The arcade will consist of a combination of video and pinball games, as well as other games like foosball. The games can be set so no quarters are needed. Let us design your personal arcade.
OFF WITH YOUR HEAD: This gives an entirely new meaning to knocking someone's block off! Each participant wears a costume that covers their entire body. The costume has a fake head that is attached by velcro above the player's real head. Using a foam/plastic sword, opponents try to knock each other's heads off. 20'L x 20'W x 10'H.
PICNIC GAME PACKAGE: Our action-packed package will take you back to the good old days. Included are games such as Sack Races, Tug O' War, Hula-Hoop Relay Races, and Spoon Relay Races. Everyone has a chance to get involved. This package will turn a picnic into a much talked about event!
PINBALL OR VIDEO GAMES: All the latest and up-to-date games. Check out our complete listing under Arcade on the rentals page.
POOL TABLES: These luxurious black laminate tables with green felt tops come complete with balls and cues and are fun for any event. 8'L x 4'W area.
PUTTING CHALLENGE: The unit has a green that is about 12 feet. The computer keeps your score. After each hole, the "lie" of the green is changed by hydraulics. Up to 4 golfers can play 9 or 18 holes. 15'L x 6'W area. Power: 1-110v/15amp circuit.
ROCK WALL/CLEAR CLIMB RACE WALL: Fun reaches new heights! This wall is made of Lexicon with handholds and footholds on both sides. You can race up the wall and see your opponent struggling below you. This is the ultimate in high tech climbing. The wall comes complete with all equipment and trained staff. 20'L x 15'W x 20'H.
RODEO ROPER: Have you ever wondered what it's like to rope a calf? Sitting up on the back of our horse you can find out. You will try to rope the calf before it reaches the end of the track. The speed is adjustable for various levels. 20'L x 6'W x 10'H. 110v/20amp circuit.
Contact The Entertainment Contractor NOW
SHOOT TO SPLASH: Do unto others before they do unto you — that's the idea behind this fast-paced game. Each player tries to score 5 baskets in their basket before their opponent does. This fifth basket controls a mechanism that controls the shower head over their opponent's head and the loser gets soaked. If neither person scores 5 in the allotted time, they both get soaked! Requires nearby water source and 20'L x 4'W area.
SKY DANCERS: Beautiful billowy columns 100 feet high add a spectacular kinetic visual to any event. These inflatables come in a variety of colors. They will grab people's attention at fairs, conventions, and carnivals!
SLAP SHOT HOCKEY WITH A LIVE GOALIE: Take aim and give it your best shot! Using a hockey puck and stick you will shoot at a live goalie in full uniform. 15'L x 8'W x 8'H.
SUMO WRESTLING: The object is to push your opponent out of a 10′ circle. The only problem is you are dressed in a body suit that makes you the size of a 500lb. Sumo Wrestler! This is probably one of the funniest things you will ever do. Requires 20′ x 20′ area.
TEAM BUILDING PACKAGE: The team building package will add real pizzazz to your next corporate event. We supply the Master of Ceremonies, a sound system, score board, and runners to keep all the participants up to the minute about how well their team is or isn't doing!
VIRTUAL MOTION BATTING: Bottom of the ninth, last chance, three to nothing. The 50′ monitor in front of you puts you into the action. You see the pitch, the ball is speeding toward you on the screen. You swing where you think the ball should be. It's a hit! There are sensors above you in this high-tech batting cage that not only gauge your swing, but show you on the screen what kind of a hit (or strike) you made. You can throw the pitch of your choice to strike out the batter. 15′ x 15′ area. Power: 1-110v/20ampcircuit.
VOLLEY BOUNCE: This is the latest version of 2-on-2 beach volleyball. The objective is to not let the ball touch the floor. You can play off the ceiling or the sides. This fast-moving game is a sure winner for sports or beach parties. 20'L x 20'W x 14'H area. Power: 1-110v/20amp circuit.
VOLLEYBALL SPIKER: How powerful is your serve or spike? You can find out with the volleyball spiker . Toss the ball and give it your best serve or spike. The radar does the rest. Your speed will be shown on an LED read out display. Keep trying to improve your score, or try to beat the best in your group. 15'L x 12'W x 15'H. Power: 1-110v/20amp circuit.
WACKY GATOR: This 3′ X 6′ interactive video game has 6 gator heads that move back and forth and make the sound of a real gator. The object of this game is to smack as many gators as you can in 60 seconds. The gator will move faster and faster making this game fun for all!
WATER WARS: Drop a water balloon into the catapult, pull down the handle, aim, and fire! Your water bomb soars high through the air and comes crashing down on your enemy's battle station. Direct hit! But wait…incoming! In no time at all, everyone is soaked. 40′ x 20′ area needed.
V.R. GOLF: Welcome to the next best thing to real golfing. This 27′ monitor allows you to see your shot travel onto the fairway of 36 different courses, from Riviera to Muave Wyaly. Swing the laser golf club over the tee pad, and drive, chip, and putt. 5'L x 10'W x 15'H. Power:1-110v/6amp circuit.
Click here for: CARNIVAL RIDES