DANCERS AND DANCE ACTS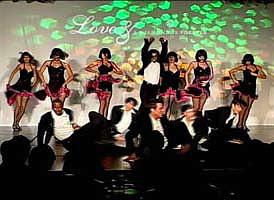 Whatever style of dance show you prefer, from the Roaring Twenties to contemporary hip-hop and anything in between, you will probably find it on our extensive list. All dancers are professional and come perfectly costumed for the particular period or ethnic dance.
Choreographers are also at your service and can customize a show to your particular taste. So give us a call and let our experts provide you with the ultimate in dance.
A few examples of the styles available are:
African Argentinean & tango Ballet Ballroom Bellydancers Bottle Dancers Brazilian Can-Can Caribbean Chinese Dragon & Lion Dancers Chinese Ribbon Dancers Country/Western Square & Line Flamenco Footcloggers Greek Gypsy Folk Hip-Hop Hoop Irish/Celtic Israeli Japanese Latin Mexican Folk Middle Eastern Modern Motivational Native American Peruvian Polynesian & Fire Roaring 20's Flappers Russian Swing Tap