Gypsy Kings Style Music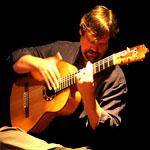 Latin American beats meet flamenco rhythms, mixing complex strumming with rhythmic percussive tapping on guitar tops. This new style of music was introduced to a worldwide audience by a trio of brothers who called themselves The Gypsy Kings. Contact The Entertainment Contractor and we can recreate these sultry sounds for your next event.
Check out this track from our featured band. More sound clips/other acts available upon request!