ACCORDIONIST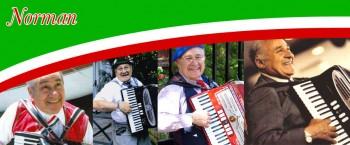 Norm's career is varied and wide-ranging. He played on a European tour with Vic Damone and played/sang for six months on the Princess Cruise line. Norm has also taken on various acting and singing roles in television and film. A published songwriter, Norm's music has been heard in media for decades.
Constantly in demand, our accordionist is the picture of a man whose work singing, writing songs, and making people smile and sing along simply can't be called work — he loves it too much!
His sunny enthusiasm and energetic personality bring out the best in the people who hear him perform. It's hard not to break out into a big smile when you are around Norm playing his accordion. Is it any wonder why he is in such demand? Whether your musical tastes run to French, Italian, German, or other international flairs, he's your man for a fun evening.
Check out these Sample MP3 Files:
[wpaudio url="/uploads/ThatsAmore.mp3″ text="That's Amore"]
[wpaudio url="/uploads/FiniculiFinicula.mp3″ text="Finiculi Finicula"]
[wpaudio url="/uploads/TarantellaNapolitana.mp3″ text="Tarantella Napolitana"]