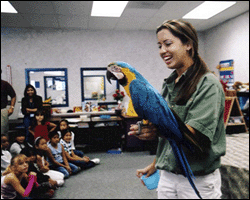 Welcome to the world of Wildlife Shows where kids and adults can 'tame' their curiosity for wildlife! Through live interactive shows, our handlers and friends will take you on a dynamic adventure without you ever leaving your seat. Our goal is to excite the public and foster a desire to preserve and learn about the wildlife and planet we share.
We specialize in films, classroom presentations, school assemblies, birthday parties and other special events. Our animals have appeared on The Discovery Channel, The Tonight Show with Jay Leno, The Howie Mandel Show, The David Letterman Show, The Wayne Bradey Show, Good Morning America, The Today Show, Ellen Degeneres, and Animal Planet. We will travel anywhere in the United States to provide our services.
Thank you for taking a walk on the wild side!
For Children's Birthday Parties, satisfy your kids' curiosity about animals! Have some live safari surprises come to your home or park for a unique party experience. You can choose live animals that will entertain and educate the birthday child and guests. Tickle the feet of a giant millipede or stroke the scales of a 12-foot python while learning the importance of these animals in their environment. Select from our various program themes…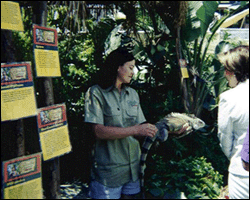 Jurassic Jungle:
A professional Keeper/Educator will bring an array of 10-15 of the following: reptiles, amphibians, arachnids, insects, etc.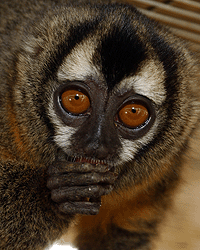 Walk On the Wild Side:
A professional Keeper/Educator will bring 6 different animals from all over the world, such as: alligators, millipedes, the South American kinkajou (which looks like a monkey), opossums, pythons, hedgehogs, etc.
Presentation Details:
Each program is roughly 45 minutes
Entertaining for all ages!
A professional will present each animal and information in a hands-on, fun, and educational format.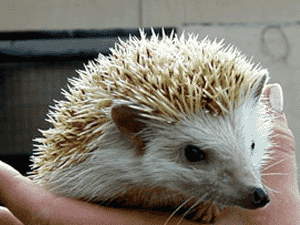 The birthday child is the "Junior Zookeeper" for the day and gets to do everything first!