ACROBATS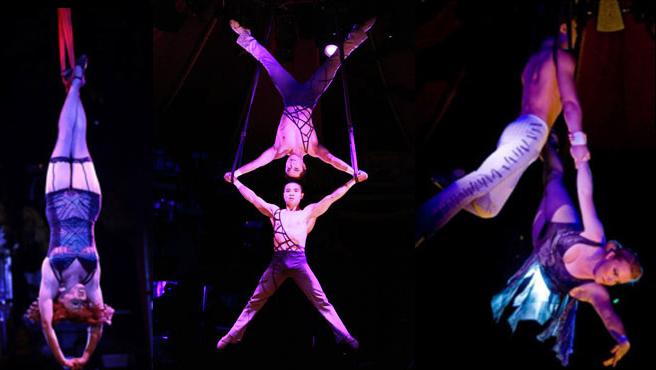 In a theatrical style reminiscent of "Cirque Du Soleil", our acrobats choreograph routines to New Age music, or to music you choose, for both ground and aerial acts. Our extemely talented team displays a customized variety of high-level skills including hand and body balancing, stunt acrobatics, high wire, acrobatics in sphere balls, silk ribbon and trapeze. They can help promote and reveal new products at conventions, tradeshows, awards ceremonies, etc.
Some of our entertainers have actually worked with the Cirque du Soleil or one of the major circuses. Shows range from 20 minutes to 90 minutes in length and each individual act can also be booked for a performance or as atmosphere for your event. Shows come complete with rigging.
Astounding circus artistry, scintillating dance, rib-splitting comedy, heart-pounding music and phantasmagorical décor combine into the "don't miss" theatrical event of the season. It will truly be the marquee entertainment for your event. Take the journey into your creative imagination and enjoy an awe-inspiring experience!
Gymnastic groups from various countries are also available such as The Chinese Acrobats or Brazilian acrobats to name a few.